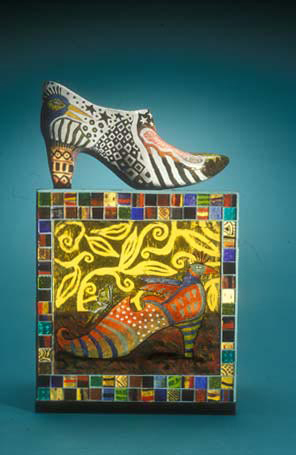 Visiting artists in metal and jewelry this year will be Harriete Estel Berman, Theresa Lovering-Brown, Shari Mendelson and Jan Baum. Harriette Estel Berman's "Consuming Identity", a retrospective slide show, focuses on themes recurring over her 22-year career. Theresa Lovering-Brown covers "Twenty First Century Tinsmithing in Smaller Studios", a slide presentation and tinsmithing demonstration. Something From Nothing/Nothing From Something is Shari Mendelson's topic, surveying large pieces, her work with a history of ideas and processes. Jan Baum gives an overview of her work in container shapes, lockets and enamel.
Visiting fiber and mixed media artists include Claire M. Murrays Sewn and Unsewn, a documentation of her two-year starting with sewn and constructed pieces pieces and ends up with unsewn, deconstructed and reassembled parts. Keke Cribbs shows The Glories of Mixed Media including 3-d glass ceramics and paint.
Furniture artist Andy Buck demonstrates what can be done with wood, color and imagination.
In the ceramics venue, Liza and Larry Halvorsen team up doing separate demos on color application, carving and sgraffito. Lizas presentation is Pinch, Scratch and Burn, while Larry explains Endless Line.
Three photo Lectures include Gary Hallmans Hi-Hoing Silver From Cornfields to Kafkas Sunsets, Rod Slemmons' No Holds Barred, Contemporary Mexican Photojournalism and finally Lawrence McFarland's slide presentation.
Special presentations are given by Lynda Barry who insists that Youve Got to Fight For Your Right to Party, and independent curator Gail M. Brown lectures On Being an ArtistThe Passionate Professional.
2004 Presenters
Lynda Barry
Jan Baum
Harriete Estel Berman
Gail M. Brown
Andy Buck
Keke Cribbs
Gary Hallman
Larry Halvorsen
Lisa Halvorsen
Theresa Lovering-Brown
Lawrence McFarland
Shari Mendelson
Clare M. Murray
Rod Slemmons